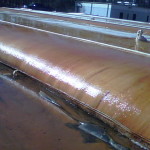 Flint offers TITANTube® high flow dewatering tubes which are used to passively dewater and sometimes to store sludge and sediment including municipal biosolids, pulp and paper sludge, fly ash, contaminated sediments and process waste from manufacturing and agriculture.  Alternatively for dewatering of mechanically handled waste, TITANLinerTM is designed to fit inside of a roll off dumpster for easy handling.
We also offer FLINTEXTM Geotextiles which are used to reinforce sludge lagoon caps and for other environmental purposes. When  FLINTEXTM high strength woven geotextiles are combined with our field services, lagoons are reinforced for safe final capping.
TITANBoomTM (patent pending) provides ultra heavy duty turbidity protection for dredging projects in open water. By completely sealing with the sea floor in a much narrower footprint than traditional boom, it protects sub aquatic vegetation (SAV) and other wildlife from turbidity.